Jump to List of Classes 
TERMS FOR REGISTRATION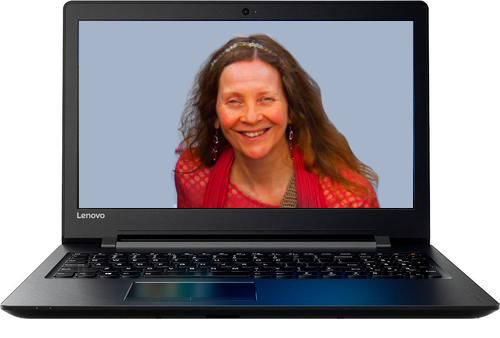 Full payment is required prior to class via etransfer. No cancellations or refunds.
If late, your class will be shortened.
If you miss a class  because of failing internet, please email Sandy a screen shot showing your internet was down (at time of class), and she'll be happy to reschedule.
New students will sign an Online Waiver prior to first class.
MEDITATION CLASSES
STYLE OF MEDITATION
Certified in the Vedic tradition, Sandy Hamelmann teaches yogic breathing, maalaa meditation, mantra meditation and the philosophies of Patanjali, Ashtaavakr, and The Bhagavad Gita. Whichever technique she's teaching, Sandy emphasizes the unchanging watcher of the mind, who remains non-blaming and forever free under all circumstances.

YOGA CLASSES
STYLE OF YOGA (SOMAYOG)
Somayog is an innovative fusion of traditional Hatha yoga with cutting-edge techniques. Somyog awakens body awareness, diminishes pain reflexes, and increases mobility and strength — which assists in healing muscles that have suffered trauma or misalignment. Somayog provides deep-reaching and long term results, yet is gentle and adaptable for all ages and stages of life.
INTRODUCTION TO MEDITATION
If you're new to meditation, Sandy will use this one-on-one session to discuss your goals, explain the philosophy of meditation, and guide you through a meditation.

55 minutes (one-on-one)

Offered daily. Please book a time.

$40 CAD per class

ONE-ON-ONE MEDITATION
Offered daily. Please book a time.

$30 CAD for 25-minute class
$40 CAD for 55-minute class

INTRODUCTION TO YOGA
If you've never done yoga before, Sandy will use this one-on-one session to discuss your goals, explain how Somayog works, and gently guide you through your first exercise .

55 minutes (one-on-one)

Offered daily. Please book a time.

$40 CAD per class

ONE-ON-ONE YOGA
55-minutes

Offered daily. Please book a time.

$40 CAD per class

GENTLE YOGIC BREATHING (Praanayam)
Offered daily. Please book a time.

$30 CAD for 25-minute One-On-One class
$40 CAD for 55-minute One-On-One class

f